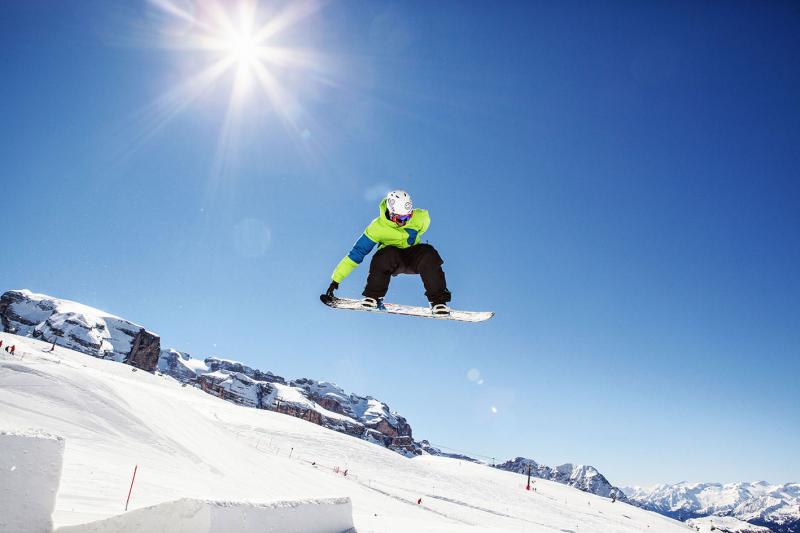 Ursus Snowpark: one of the best snow park in the Italian Alps
It is located in the ski resort of Madonna di Campiglio, a very famous ski resort in Trentino offering excellent snow holiday offers, some of the best for a winter holiday in Italy.
If you are thinking about where to practice ski in Italy and you like snowboarding and freestyle, come to know the beautiful snowpark in Trentino! Ursus Snowpark on the Brenta Dolomites, is divided into two areas:
a main area at Passo Grostè
an area dedicated to children in the Pradalago area
Considered one of the best areas dedicated to Freestyle in the Alps, it boasts over 50,000m² with kickers, rails, boardercross, facilities for beginners and families alike to freestyle enthusiasts. For the 2017 / 2018 season many new features: the design of the snowpark is entrusted to F-TECH Snowpark Construction, in addition the area has been equipped with a new snowmaking system. The main snowpark is divided into a high part, above the Stoppani hut, dedicated to twelve medium-sized structures: boxes, rails and jumps arranged on three lines. In the lower part there are more than 20 structures divided into different lines, with jumps dedicated for beginners, up to the most difficult structures for the more experienced. Also present a boardercross track. The snowpark is served by the Express 4chairlift and the Grostè gondola lift. The opening hours are: 9.30-15.30.
On the opposite side of the main snowpark, in the Pradalago area, there is the Mini Ursus Snowpark, a snowpark area dedicated to children who want to have fun and approach freestyle. Among the structures: a series of parabolic curves, several woops, 3 boxes in sequence and closing a snow tunnel.