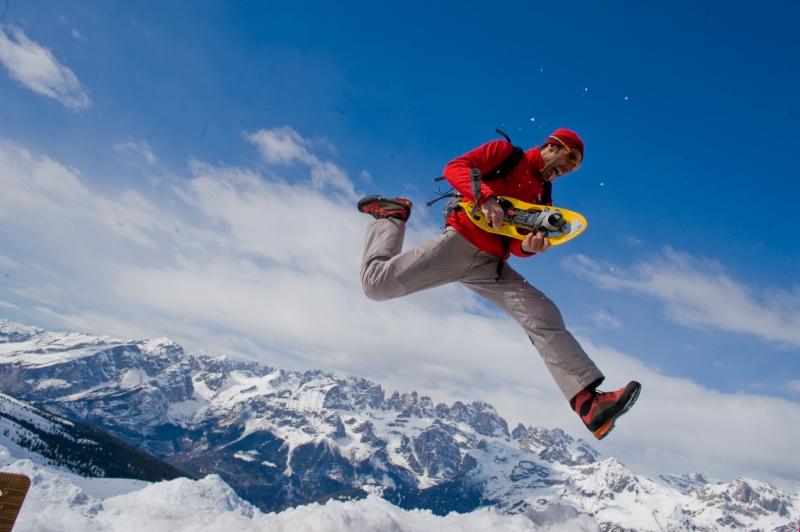 Magic in the Paganella Skiarea in Trentino: plunge into the snow on a full immersion skiing holiday in the Dolomites, Italy.
The Paganella Skiarea surprises you during your holidays in Trentino in winter: skiing on the Paganella ski slopes is something magical and allows you to live an unforgettable experience during your skiing holidays in Trentino. Not only skiing, the best 5 outdoor activities in addition to downhill skiing are:
1. SKI MOUNTAINEERING
In Paganella it is possible to climb in altitude with ski mountaineering and enjoy the spectacular view that the mountain gives us. The 3TRE track della Paganella is entirely dedicated to ski mountaineering lovers, who want to enjoy nature and the wooded landscapes that surround them.
2. FLIGHTS IN PARAGLIDING
Do you want to try a fantastic and adventurous experience that you will hardly forget? Do you want to see how eagles look at us? Then we recommend a two-seater paragliding flight with qualified professional pilots. You will not regret it
3. FAT BIKE
You know those mountain bikes with very wide tires? Here, we advise you to try a different experience and to do a ride on the snow. We know that the idea seems a bit bizarre, but we assure you that you will not regret it!
4. CROSS-COUNTRY SKIING
If you have never tried cross-country skiing, we highly recommend you to try it; is a sport suitable for everyone, young and old and the circuit around the frozen Andalo lake makes the atmosphere a fairytale and the calm of the place makes this moment even more intimate.
5. SNOWSHOES
If you have never tried snowshoes, you absolutely must do it, the feeling of walking with snowshoes is to float. Exciting and unforgettable walks in the woods, in close contact with nature and its silence.