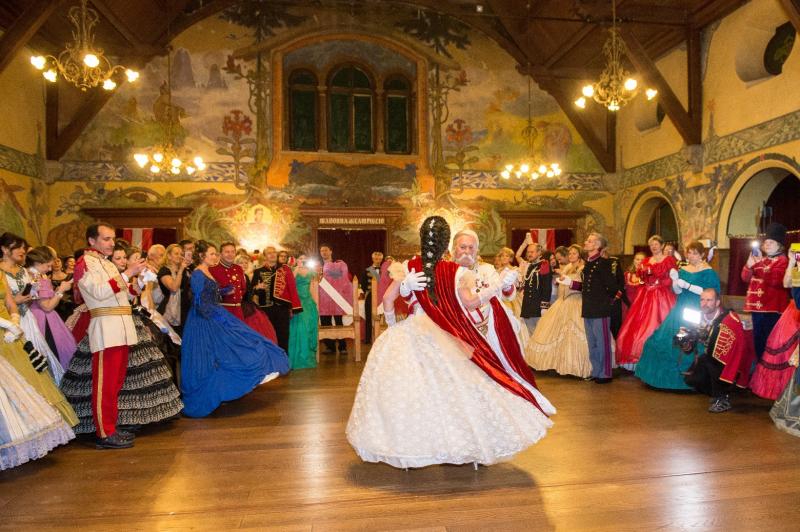 A special event for those who will spend the winter in Madonna di Campiglio from 12 to 16 February!

From 12 to 16 February 2018, in Madonna di Campiglio, for those who are on a white week, the Hapsburg Carnival is staged and romantic princely atmospheres are brought back to life.
A week of shows, skiing on the slopes of the Skiarea Campiglio in historical costume and torchlight processions with waltz rhythm during which Campiglio will celebrate its most prestigious past with a new edition of the "Hapsburg Carnival". Not only to see, therefore, the Carnival, but to live.
The detail of the festivities:
Monday 12 to 18.00: arrival of the Court in the center of Campiglio;
Tuesday 13: appointment dedicated to children
Wednesday 14 (21.00 Palacampiglio) will make its entry into the Hapsburg week a novelty: the musical "The Princess Sissi" designed and built by the Company Corrado Abbati. Freely inspired by the 1955 film of the same name with Romy Schneider, it is a rewrite of the love story between the young princess Elisabetta di Baviera (Sissi) and Francesco Giuseppe.
Thursday, Francesco Giuseppe and Sissi, together with the Court, will be able to meet, engaged in romantic and colorful skiing, on the slopes of Skiarea. Then, at 6.00 pm, they will be the protagonists of a spectacular and suggestive slalom along the Canalone Miramonti.
Friday, February 16, between 18.00 and 21.30, the grand finale with the "Hapsburg Festival" in the historic Hofer Hall of the Hotel Des Alpes. In rigorous period costume, you will dance on the notes of the Viennese waltzes admiring the paintings made by Gottfried Hofer in the late 1800s, with live music with orchestra, toast with Ferrari bubbles and buffet standing with delicacies created by Alfio Ghezzi, chef of the 2 Michelin-starred restaurant "Locanda Margon" of Trento.
The rental of historical costume and participation in the "Hapsburg Festival" on Friday can be purchased online (campigliodolomiti.it) at a price of 90 euros or at the offices of the Tourist Company (0465 447501). Reservation is mandatory.