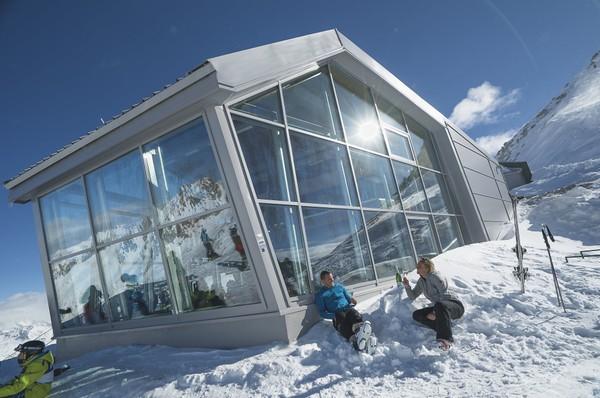 Design during your skiing holidays in Trentino, Italy, in the new ski - bar at 3,000 meters a step away from the sky!
If you book among the best ski offers in Trentino a holiday in the Skiarea Ponte di Legno - Tonale, the visit is compulsory at the Panorama 3000 Glacier! Among the alpine most fascinating huts in Trentino, in the Dolomites, the most modern Ski Bar in Trentino is, now, the Panorama 3000 Glacier : pure design and Glamor at the top. Panorama 3000 Glacier is the new ski bar on the Adamello roof, at 3,000 meters above sea level, in the Skiarea Ponte di Legno - Tonale,.
Here, in a contemporary design environment, you can enjoy a spectacular 360 ° view of Lobbie glacier, and Presanella peak and Adamello glacier, the largest glacier in the Italian Alps. The building, made entirely of glass and steel, is a glamorous space whose strengths are the breathtaking view, contemporary architecture and the exclusive partnership with Cantine Ferrari, the true glamorous Italian aperitif. From the Panorama 3000 Glacier starts the exciting and unique "non stop" 11 km slope to Ponte di Legno, one of the longest runs in Europe.
But Panorama 3000 Glacier is not just for skiers: thanks to the new Presena gondola lift, you can reach it even without skis or boards on your feet, spending a day at altitude in absolute relaxation in the heart of the peaks of the Central Alps.
The new structure is open eleven months a year, also for hikers, as a fulcrum and support point for an articulated network of trails and treks of every difficulty.