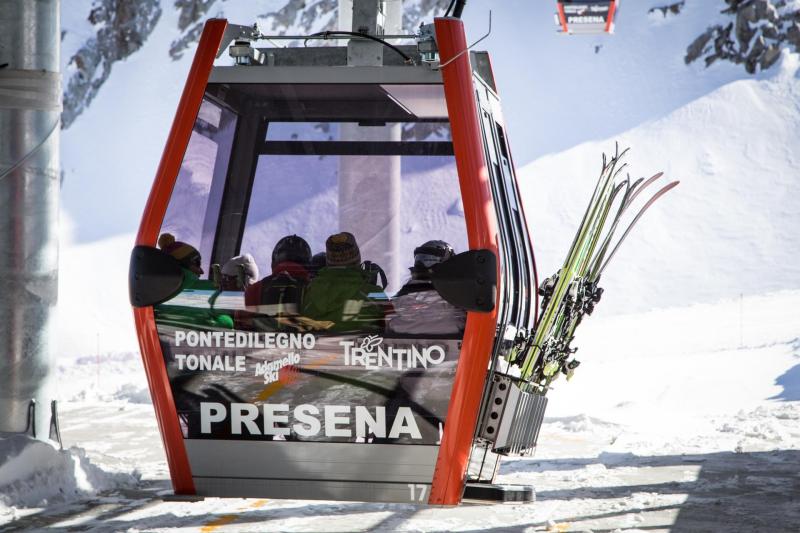 A unique work in the panorama of the Italian Alps for an ever more modern ski! New technology and comfort available to skiers of the Skirama Consortium. Last but not least, don't forget to check out our exceptional white week offers!
The new Presena gondola lift, with 8-seater cabins equipped with external ski carriers, is at the forefront of technology to guarantee comfort to all skiers in the marvelous and majestic appearance of the Presena glacier. Inaugurated on April 9, 2016 by the President of the company Carosello Giacinto Delpero, who has followed the construction work day by day, the new gondola has replaced the old chair lift and the two ski lifts that were just below the ridge. The cableway allows a better use of the glacier, both in the winter and summer months allowing anyone to reach the Presena Pass, even non-skiers.
The starting station is located in Passo Paradiso (2.585 m) with an intermediate station at an altitude of 2.724 meters, where the new Capanna Presena hut will rise, and then the gondola arrives at the balcony overlooking Pian di neve, Lobbie pick, Mandrone glacier and Presanella pick. Upon arrival, a modern and welcoming sky lounge bar will welcome skiers in a refined setting in front of a breathtaking panorama. The news gondola lift runs in just 7 minutes and it means that you can get to the top of the glacier in just 12 minutes starting from Passo Tonale and in 27 minutes starting from Ponte di Legno (Pontedilegno-Tonale cable car, Paradiso cable car and Presena cable car).