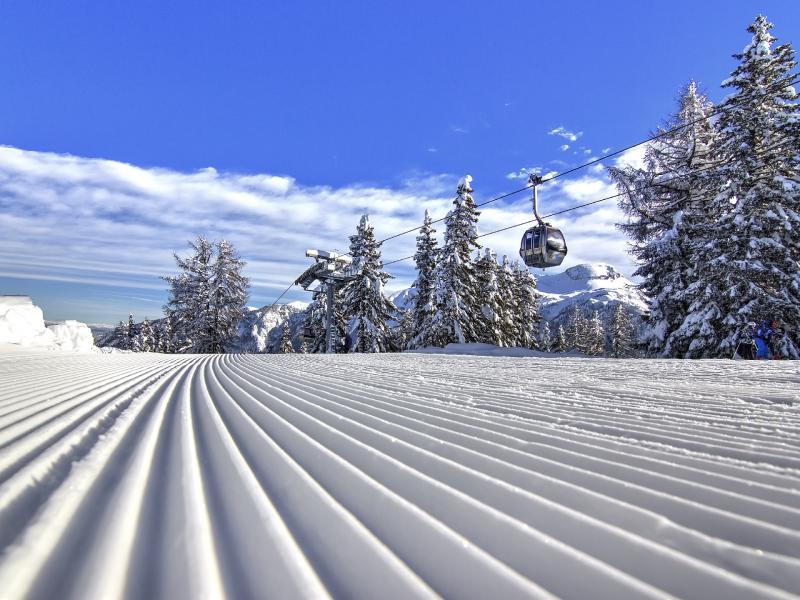 If the black slopes are for you, take advantage of your ski holiday in Italy in Ponte di Legno - Tonale!: in beaten by paradise!
In fact, the Black Paradiso trail at Ponte di Legno - Tonale is one of the historic tracks of the Italian mountain. Ski weeks lovers in Trentino know that among the black slopes of ski resorts in Italy, Black Paradiso slope is without a doubt, one of the most fascinating!
Located under the Paradiso Pass, oriented to the north and not exposed to the sun, it always guarantees excellent snow and it is skiable from early November to late May. Open to the public for the first time in 1963, in 50 years of history it has been enlarged and modified but leaving its charm unaltered. The departure is at 2,585 meters right next to the arrival of the 12-seater gondola and the arrival is located at 1,850 meters: 3 km breathtaking with a vertical drop of more than 700 meters, to be repeated several times because each descent is different from the previous one. Enchanting the view that opens on the Presena Glacier upstream and on the Tonale Pass to the valley.
Let's laced the boots and go! After a few meters, a curve on the left leads you into a link between high rocks, and with the next hairpin bend an endless wall with a sustained and constant slope opens up, several hundred meters long, wide and often with magnificent snow throughout the winter season. After the wall you come out in a sweeter stretch for about 200 meters followed by sudden changes of slope and humps where to let go skiing at maximum speed.
Attention to the junction: you can choose to take the road to the left and get to Ponte di Legno with a track that altogether reaches 11 km and 1.800m in altitude or get off on the right and return to the start of the gondola lift.